WELCOME TO PINES HOUSING
STUDENT HOUSING IN REXBURG
WELCOME TO PINES HOUSING
Welcome to The Pines apartments – affordable BYUI student housing for single men and women! We're conveniently located right across the street from the BYU-Idaho stadium and the Hart gym! We're also surrounded by popular restaurants and shops such as Five Guys, Gator Jacks, Crumbl, Rocky Mountain Chocolate Factory, Barber Pop Shop, and Deseret Book. As an added bonus, our residents receive discount cards for Hemming Village shops! You'll find that between the convenient location, fun amenities, comfortable floor plans, and unbeatable rates, we're the perfect place to call home! 
This page will give you space to explore some of the main features we offer such as floor plans, resident reviews, amenities, photo gallery/virtual tour, and location. The buttons below each section will take you to a page with more information on the feature. When you're ready to make The Pines your new home click on "Apply Now" below!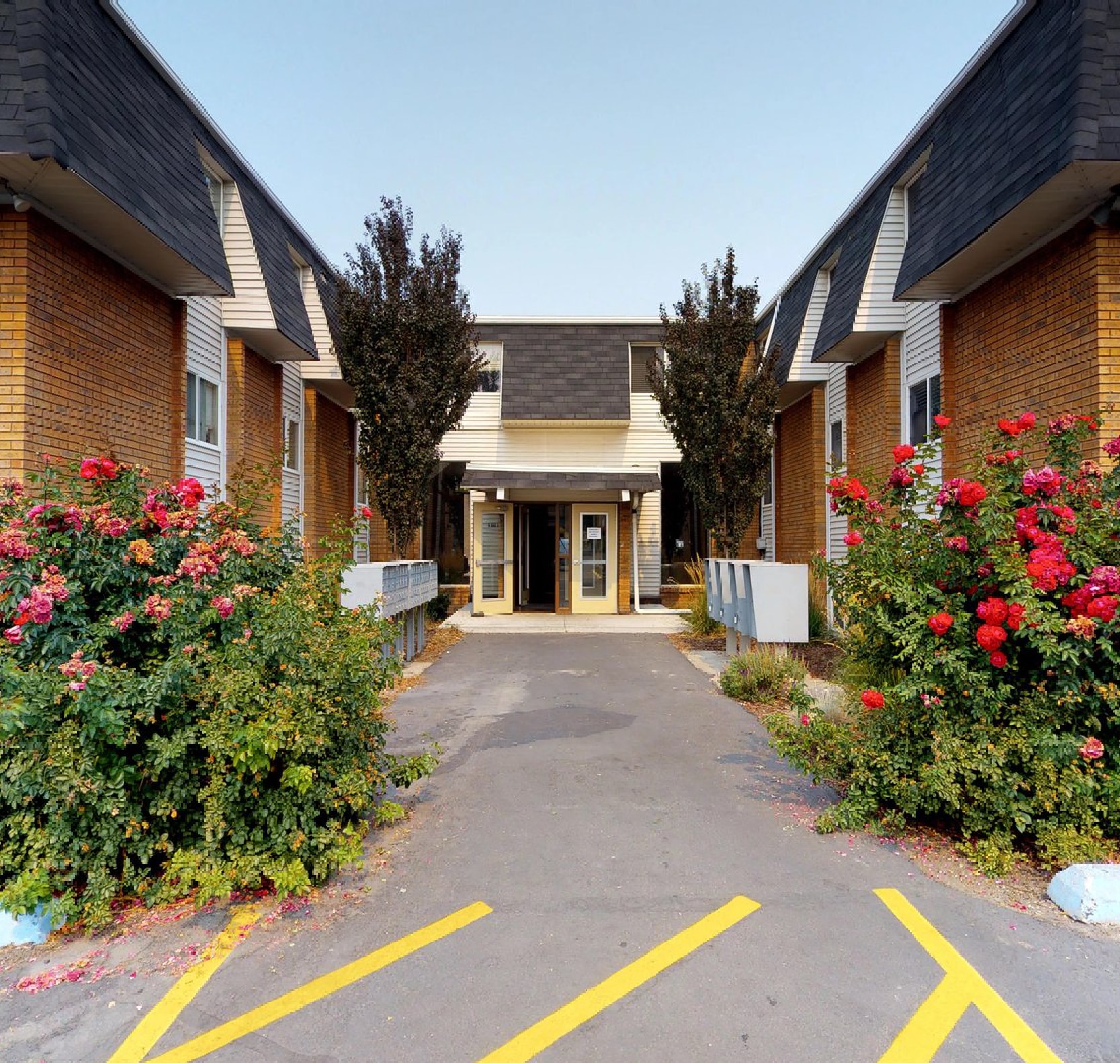 Welcome to The Pines – the most affordable student housing complex in Rexburg, ID
Explore Our Floor Plans
Our BYUI off campus housing hosts both men and women! Men can choose between a standard or premium 2X1 floor plan. Premium units have a larger living room area, including a study nook! Our female housing features a 3X2 floor plan with plenty of space for you and 5 friends! In the kitchen you can find top-notch appliances such as a fridge, stove, microwave, garbage disposal. Bedrooms are furnished with beds, dressers, and desks for residents to use as a work space. The living room areas come with comfortable couches, a flat screen TV and a DVD player. Claim our discounted bundle deal by signing for more than one semester at a time! We strive to make accommodations for all roommate requests! If no roommate requests are made, we take time to pair residents together based on their answers to our roommate preferences questionnaire. Click below to view more of our floor plans!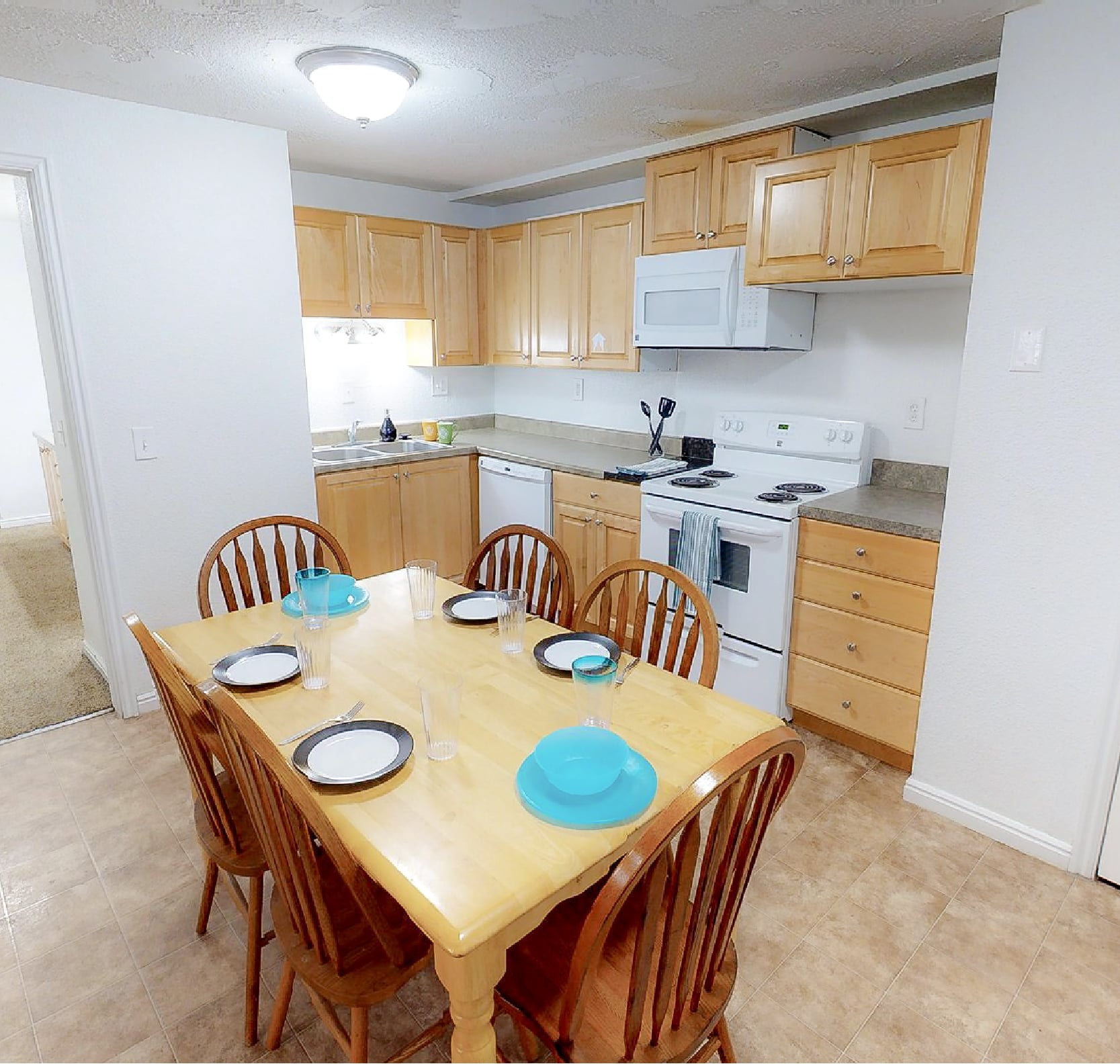 Check Out Our Resident Reviews
Our BYUI housing for students boasts a 4.1 star rating on Google! Learn how we give you the best living experience by reading some of the great things our residents have said about us:
"This apartment is so close to campus, SO affordable, and has lots of great amenities - heating, pool table, laundry room that uses an app to pay instead of quarters, garbage disposal, etc. It is definitely older than some of the new expensive apartment complexes but it's much more affordable, right next to campus, and next to lots of great restaurants and stores as well as Porter Park! (Jimmy Johns, Kiwi Loco, Deseret Book, Kainoa's, Crumbl, etc.)"

Reagan H.
"I put in a work order for something that needed to be fixed in the apartment and believe me when I say I was amazed at how quickly they responded and fixed the issue."

Nkiruka M.
"Moving in was super easy, my roommates were super kind and made sure I got plenty of room for my things. I especially appreciated that because I was the last to move in. Picking up the key and everything was easy, and everyone was just so nice."

Sarah N.
"Honestly, it's a really wonderful place! The ward is sweet and the residents are sweeter. I may be biased because I get to spend time with some of the best roommates in Rexburg but it's what makes it worth staying here for me."

Julienne B.
Experience Our Exceptional Amenities
We stand out from other student apartments in Rexburg with our top-notch amenities! 
Our women's lounge features a study/piano room perfect for completing homework. Get your blood pumping at our fitness center complete with machines and a large mirror wall! Inside the men's lounge area, you'll find multiple comfortable couches and recliner seats as well as multiple flat screen TVs! You and your friends can enjoy our ping pong table, air hockey table, and pool table! 
During office hours, our leasing office offers free printing services. Each building has an onsite laundry room that is accessible 24 hours a day. We also provide free high-speed internet to our residents! We know that parking can be a hassle in a college town! Fortunately for you, we have a large parking lot with over 170 parking spots! 
We provide the ultimate college experience for our residents! We host movie nights, open mic/karaoke nights, and many other events. The local businesses that share a parking lot with us also host many exciting events such as large concerts, festivals and fairs, and other events that help our residents meet new people and make fun college memories. With these exceptional amenities it's easy to see why we're named one of the most popular BYUI student apartments! Click below to see a full list of our amenities!
Photo Gallery/Virtual Tour Sneak Peek
See more of our incredible amenities by taking a virtual tour. You can view all we have to offer from the comfort of your couch!
Location
|
Off Campus Housing BYUI
Our location gets you anywhere you need! We're just a short walking distance from BYU-Idaho campus, the beautiful Rexburg Temple, the Walmart Shuttle bus stop, the on-campus gym, and popular restaurants like Cafe Rio, Dominos, Subway, Little Caesar's, Jimmy Johns, Kainoa's, Five Guys Burgers and Fries, and multiple soda shops! We're also super close to shops such as Deseret Book, Grifols Plasma, Paramount 5 movie theatre, Binary Cocoa, and Broulim's Grocery Store! 
Porter Park is just a short two-minute walk away! It is full of grassy areas, walking and biking paths, benches, covered picnic areas, an outdoor stage, playground, basketball and tennis courts, and a splash pad! There are many large city-wide events hosted nearby in Porter Park as well as neighboring streets, including concerts, fairs, and more!  Click below for directions to our incredible off campus housing in Rexburg!